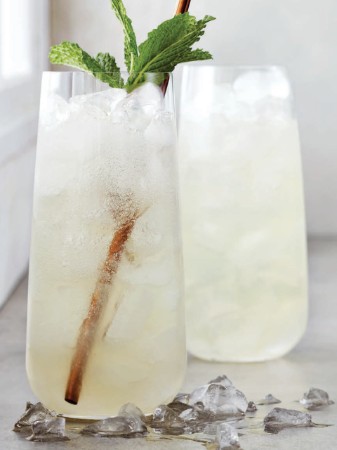 Named after the Mojito and Oaxaca, where mezcal comes from, this crossover drink gets a flavour boost from a herb syrup shared by Becky Ip and Ryan Ringer, owners of Grey Tiger (greytiger.ca), a Toronto cocktail bar that's been upcycling its tired herb leaves and stems into teas and syrups since it opened four years ago.
2 oz mezcal
½ oz Herb Stem Syrup (recipe follows)
1 oz fresh lime juice
6 mint leaves
6 ice cubes
3 oz spicy non-alcoholic ginger beer (Grace and Fever-Tree are good brands available in many grocery stores)
1 sprig mint for garnish
1 Pour mezcal, Herb Stem Syrup, lime juice and mint leaves into cocktail shaker, along with 6 ice cubes. Shake for 45 seconds, then strain into ice-filled tall glass.

2 Top with ginger beer and garnish with a sprig of mint. Serve with a metal or bamboo straw.
HERB STEM SYRUP
Got wilted leaves that didn't make the cut for a garnish? Give them a second chance by tossing them in with the stems to make a cocktail syrup.
1 cup (250 mL) sugar
1 cup (250 mL) water
1 cup (250 mL) mint stems and wilted leaves
2 drops mint oil (or extract)
1 Gently heat sugar, water and mint leaves, stems and oil in small saucepan over low heat. Let cool, strain, bottle and refrigerate for up to 2 weeks.